Wanderhotel Cyprianerhof in S. Cipriano - Tires - Altipiano dello Sciliar

Informationen
Love for the magnificent natural landscape is expressed every day anew at the Hotel Cyprianerhof in Tires: in the furnishing of the rooms with natural wood furniture, the warm wood floors, the woodchip heating system and the natural, healthy cuisine. It's no coincidence that Alpine Pearls stands for sustainability, climate protection and soft mobility, made for conscientious travelers to enjoy a relaxing vacation.

At our 4* Alpine Pearls hotel in Tires, you live in harmony with nature, surrounded by our natural furnishing and the idyllic mountain landscape.
Services
Request availability
Remind
Book now!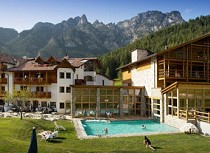 Wanderhotel Cyprianerhof
Str. St. Zyprian 69 - Tiers am Rosengarten
I-39050 S. Cipriano - Tires - Altipiano dello Sciliar (BZ)

Tel. (+39) 0471 642143
Fax (+39) 0471 642141

Homepage:
www.cyprianerhof.com